Seventy percent of the Bangladeshi population has no access to electricity—a shameful number in a nation with such great solar radiation. Lack of energy makes it difficult if not impossible for people to better themselves socially and economically. Without electricity you can't run an efficient poultry farm, a food catering business, or even a basic home sewing business.
So Grameen Bank founder and Nobel Peace Prize winner Dr. Mohammed Yunus started Grameen Shatki to bring solar power to the people. GS would employ the same principles as Grameen Bank: to give poor and rural people access to a resource with which mainstream institutions and "the market" had formerly neglected to provide them.
In 1997, Grameen Shakti provided the know-how and the credit for the installation of 228 solar panels. GS trains installers who go door-to-door in rural centers promoting the benefits of solar electricity. Since most homemakers are women, 50% of these installers or "engineers" are also women. Bangladesh is a socially conservative country. Having men performing these duties is problematic because it's not considered appropriate for women to be visited at home by a man who is not their husband or other close family member. But this very restriction on women at home creates an opportunity for other women to learn skills and earn money.
Over the decade after 1997 Grameen Shakti grew almost a thousandfold. By 2008 it had installed a cumulative 220,000 "Solar Home Systems" and was still growing at 100% per year. It had also provided "green jobs" to 8,000 people, of whom 4,000 were "engineers" or installers. Most of these 4,000 people were school dropouts (it's common in Bangladesh for girls to leave school very early in order to help at home) who might otherwise not have had a chance at decent jobs and economic advancement. (2)
The cost of a Grameen Shakti solar home system (SHS) including the (Japanese) rooftop solar panels, the electronic components, and a battery is $350-$400. Buyers put down 10-15% of this cost and get a 3-year loan to amortize the system (2). At this point they own a solar generating system that should provide electricity for 20 years.
The energy capacity installed by Grameen Shakti as of March 2009 is 11 MW, equivalent to the PS10 tower power plant in Seville. This capacity benefits up to 2 million people daily and produces 44 MWh per day. (3) The electricity lights up homes, powers television sets, and recharges cell phones at night.
These solar generators are mainly displacing kerosene, which is people's main source of light and cooking energy throughout Bangladesh—and throughout much of the poor world. Kerosene costs up to $2 per kWh, about 20 times what I pay for electricity in San Francisco. The poorest of the poor are paying much more than we are, both in absolute terms and as a percentage of their incomes!
What's more, kerosene also kills people, not just by fire but by producing noxious fumes. According to UNESCO, more than two million children died from acute respiratory disease in 2000; 60% of these deaths were associated with indoor air pollution and other environmental factors (4). Kerosene is not just expensive. It's downright dangerous.
Meanwhile, solar energy is even more capable of distributed operation than cell phones are, since solar PV has no need even for transmission towers. The potential to reach everyone everywhere and give them access to modern energy is unique to solar. Can anyone say "democratization of energy"?
The sky is literally the limit for the growth of solar energy. Grameen Shakti plans to install one million solar home systems by 2012 and wants to create 100,000 green jobs by 2015 (5). Create jobs and advancement opportunities for the poor, save children's lives, and save the planet too? This sounds like another Nobel Peace Prize to me. In January 2009 Dipal Barua, who spun off Grameen Shakti from Grameen Bank in 1997 and has been its Managing Director since, won the $1.5 million Zayed Future Energy Prize (6).

Grameen Shakti proves that a profit-making, market-based enterprise with a social purpose can give millions of poor people access to electricity without a transmission grid, just as China proved that similarly inexpensive processes can give phone access to hundreds of millions without a traditional telecommunications infrastructure.
Solar makes Power to the People an affordable reality. Today.
Adapted from "Solar Trillions – 7 Market and Investment Opportunities in the Emerging Clean-Energy Infrastructure", Chapter 6 – Opportunity IV—"Power to the People: Residential-Scale Solar" (Copyright © 2009 by Tony Seba). Available at Amazon.com http://www.amazon.com/Solar-Trillions-Investment-Opportunities-Clean-Energy/dp/0615335616
Endnotes:
(1) Grameen Shakti "At A Glance March 2009," http://www.gshakti.org/glance.html
(2) "Grameen Shakti Brings Sustainable Development Closer to Reality in Bangladesh" , GreenBiz.com, January 21, 2009, http://www.greenbiz.com/blog/2009/01/21/grameen-shakti
(3) Grameen Shakti "At A Glance March 2009," http://www.gshakti.org/glance.html
(4) United Nations Education Scientific and Cultural Organization (UNESCO) World Water Assessment Programme http://www.unesco.org/water/wwap/facts_figures/water_energy.shtml
(5) Grameen Shakti "At A Glance March 2009," http://www.gshakti.org/glance.html
(6) "Zayed Future Energy Prize Recognizes Dipal C. Barua," Reuters, January 19, 2009, http://www.reuters.com/article/pressRelease/idUS154081+19-Jan-2009+PRN20090119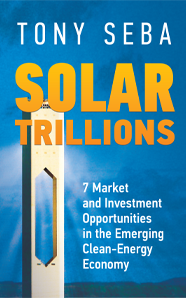 https://tonyseba.com/wp-content/uploads/2015/09/Grameen-Solar-Adoption-2008.jpg
466
885
Tony Seba
https://tonyseba.com/wp-content/uploads/2014/03/tony-logo.jpg
Tony Seba
2010-11-20 18:08:00
2015-09-04 17:16:09
Can the Poor Afford Solar?