Anticipating and Leading Market Disruption
Why do smart people at smart companies fail to anticipate, let alone lead, market disruption? How can you anticipate and lead market disruption rather than be surprised when it is too late for your company or industry to react? Traditional strategy can't help you and even slow-moving disruption models are already obsolete.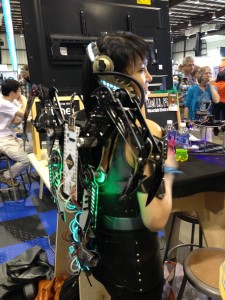 We now live in a state of permanent disruption, where disruptors can seemingly come out of anywhere and quickly destroy existing markets and industries with better, cheaper, and faster products and services. These disrupting companies use a combination of exponentially improving technologies, new product architectures and innovative business models enabled by these technologies to meet customer needs in new and unexpected ways.
In this workshop, students will learn frameworks, tools, and strategies to understand, anticipate, and lead market disruption. Each class will explore the ways that new technologies enable the creation of new products and business models, creating new markets or disrupting existing industries. We will use the following exponential technologies and exponential markets (including examples of industries about to be disrupted):
3D printing (manufacturing, construction, health care, energy, food),
Robotics (manufacturing, health care, energy, transportation)
Electric Vehicles (transportation, energy, construction, infrastructure, real estate, land management)
Self-Driving cars (transportation, energy, agriculture, logistics, retail, insurance, construction, parking, real estate)
Sensors and the Internet of Things (health care, transportation, energy, construction, infrastructure, insurance)
Machine Learning/Artificial Intelligence (manufacturing, services, energy, transportation, construction)
3D Visualization (retail, transportation, real estate, construction, energy, health care)
Solar (energy, construction, real estate, infrastructure)
Unmanned Aerial Vehicles (transportation, retail, construction, land management, infrastructure, agriculture)
Mobile Internet & Cloud (transportation, finance, retail, telecom, energy)
Big Data / Open Data (all industries)
Electronic Money (finance, retail, telecom)
Synthetic Biology / Bioprinting (food, health care)
The course is designed to help entrepreneurs bent on disruption and managers who need to anticipate disruptive threats.
The workshop is offered in 1-day or 2-day formats. Click here for a sample of the 2-day workshop
Click here to download the workshop flyer.
Course Summary – Anticipating and Leading Market Disruption
Waves of Disruption – Why Choosing to Wait is Choosing to be Disrupted
Disruption – Why Business Model Innovation Is As Important as Technology Innovation