Finance for Entrepreneurship, Strategic Marketing, and Engineering
Are you an intrapreneur or entrepreneur ready to raise funds from angel investors, venture capital funds or your company's CFO? Do you feel that ROI has turned into just another meaningless marketing buzzword? Do you feel the engineering or marketing team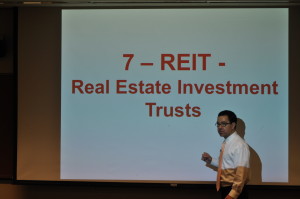 can't reliably build a capital budget or prioritize product or project investments?
"Your class was monumental in pivoting my perspective on having my own business. Every topic was fascinating. Your class will live inside me as long as I live. Thank you."
– Marie Matiko, Clean Energy Entrepreneur.
"I have experienced a "quantum leap" in the depth and quality of my financial analytical capabilities. In this highly competitive results driven world, the bottom-line is that I now approach my profession with new found vigor and enjoyment because as a direct result of my increased effectiveness from my profoundly sharpened financial analytical skills. Thank you Tony."
– Peter Baird, Managing Director, Private Capital Resource Inc.
What is the goal of this MasterCourse?
To give you the core knowledge, language and tools of finance to:
Prepare entrepreneurs and intrapreneurs to raise funds for new products, projects, and companies.
Understand the CFO, CEO, and investor tools, language, and perspectives when evaluating new products, projects or deals.
Build superior cash budgets and capital budgets for strategy development and business planning.
Use financial tools to make value-based decisions on product development, project development, business plan development and market strategy.
"Taking this course changed my whole career. It made corporate finance easier and dramatically improved my business planning skills."
– Andrew Mitchell
Participants learn key concepts in finance such as cash budgeting, capital budgeting, time value of money, discounted cash flow analysis, break-even analysis, sensitivity analysis, scenario analysis, ROI, NPV, IRR, payback, management options, and growth models. The difference between cash and profits, ways to value a venture, deciding and prioritizing multiple projects or products.
Video: Finance for Entrepreneurship – Course Summary

Who has taken this workshop?
Product, marketing and brand managers
Directors of marketing, sales, research, and development
Engineering managers, project managers, product managers, and senior engineers
Entrepreneurs and executives of startup and growing businesses
Entrepreneurs-in-residence
Hundreds of entrepreneurs, product development managers, and product marketing managers and engineers have taken this course and have found it invaluable to improve their careers and organizations. They have come from a cross-section of Silicon Valley: Google, Yahoo!, Oracle, Microsoft, eBay, PayPal, NASA, Intel, Cisco Systems, Juniper, Genentech, Visa, Symantec, McAfee, HP, and many other startup and large companies.
"Tony's books, ideas, teachings are ground breaking in the worlds of high tech and clean tech, strategic marketing and finance. But more than all that, his unflinching commitment and dedication to his students is second to none. He's any aspiring entrepreneur's dream mentor. If you are looking to start a high tech or clean tech company you owe it to yourself to learn and understand what he's teaching because its simply the best you'll find in Silicon Valley or anywhere for that matter."
– Joshua Hurst, Oracle, Inc.
Day One
Understanding Financial Statements – Balance Sheet, Income Statement and Cash Flow Statement. How are these connected? Annual Reports.
Understanding Performance analysis and ratios – Profitability, liquidity, leverage, and activity ratios
Cost of capital, Economic Value Added (EVA)
Understanding Cash Management – Cash budgeting, working capital, cash conversion cycle.
Understanding Time Value of Money – Time Value of Money, Discounted Cash Flow (DCF) analysis, Present Value (PV), Future Value (FV).
Selecting and prioritizing investment alternatives to increase shareholder wealth – Capital budgeting, payback, NPV, IRR, MIRR.
Day Two
Building Capital budgets and Cash budgets

Capital budgeting with timing and risk
Sensitivity analysis and scenario analysis

New Product Finance

Developing a capital budget for a new product or company
Building, valuing, and prioritizing the investment – what a new product proposal should incorporate

Venture Capital Finance

Company Valuation, Acquisition Valuation
Case: Valuation of Venture Capital deals

Project Finance

Project Finance, Project Valuation, Selection Case
Case: Valuation of a Solar Power Plant Project

Selling on a Value Basis

Analyzing and building a product/customer ROI case.
Case: software or telecom product ROI analysis
"It was excellent. I had written successful business plans before. However, the in-depth analysis of each step and topic improved my marketing planning dramatically."
-Ellie Ay, Product Marketing Manager, Avaya