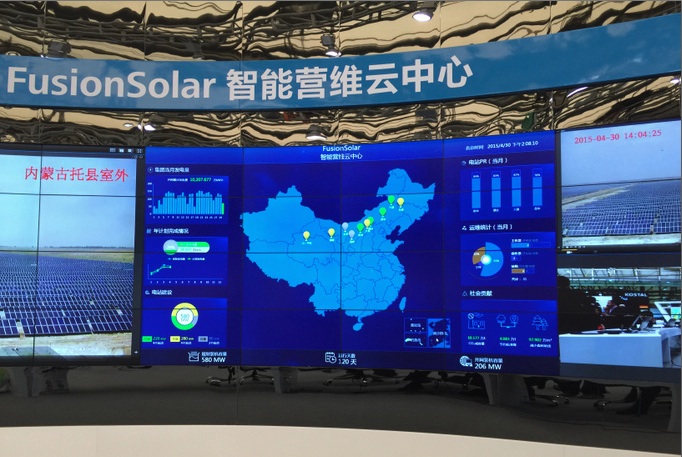 The solar disruption is accelerating. I spent last week in Shanghai, where I attended the SNEC PV Power Expo 2015 and had the opportunity to meet with a number of global solar executives in China. Here are a few highlights and thoughts from the show.
1- Solar PV costs going down fast.
Solar PV production costs are about 45 ¢/W, according to Arturo Herrero, Chief Strategy Officer at JinkoSolar, a tier 1 Chinese PV manufacturer. Market prices are as low as 55 ¢/W for larger projects (80+MW) in markets without significant tariffs or anti-dumping measures (like the US), according to Mr. Herrero.
Tier-2 manufacturers generally compete on price so they have to sell for even less. I heard from several sources that tier-2 manufacturers are shipping product for less than 50 ¢/W.
2- Information Technology merging with Solar.
One of the premises of my book "Clean Disruption of Energy and Transportation" is that solar is a technology and, as such, it's governed by information economics and the increasing returns that characterize information products.
Huawei, the $46 billion (2014 revenues) telecommunications company has entered the solar market in a big way. At the SNEC PV show Huawei showed its "Smart PV Plant Management System", a power plant monitoring solution that combines string inverters, smart loggers, wireless communication equipment, and a grid management center to monitor the power plants.
The marketing manager I spoke with at the show told me that Huawei had shipped 4 GW of smart PV plant product in 2014 and expected to ship 10 GW in 2015, which I found hard to believe. The company's product collateral did say that the company had 5.5 GW in orders and 4GW in shipments for 2014.
Whatever the numbers are, Internet companies are finding out that the distributed technology nature of solar is very much in tune with the distributed nature of information technology.
3- China has achieved critical mass in solar PV manufacturing.
The SNEC solar expo was far larger than any solar expo I have been to. More than 150,000 attendees came to Shanghai to visit 1,500 companies covering 180,000 square meters of exhibition space. By comparison, Intersolar Europe 2014 had 42,300 attendees who came to visit 1,100 companies covering 88,000 m2 of exhibition space.
Most of the companies at the show were Chinese and they represented nearly every aspect of the solar PV manufacturing supply chain. China has probably achieved a critical mass in solar PV – which feeds the virtuous cycle of further gains in scale and innovation that lead to even lower production costs.
4- China is already the world's largest PV market.
China installed more than 5 GW of new solar capacity the first quarter of this year. ([i]) This is just under the 5.6 GW that France has installed in its whole history. ([ii]) China is planning to install a total of 17.8 GW in 2015 which is just under the 18.3 GW that the United States had installed in history as of the end of 2014. ([iii])
By becoming both the world's largest manufacturer and the world's largest market, China can further increase innovation advantages that accrue when co-locating R&D, manufacturing and markets. This can push the PV learning curve even further – which leads to even lower cost of solar.
As PV costs keep going down, the solar disruption around the globe will accelerate even more.
5- Clean Disruption, Internet Disruption and Solar Disruption
Solar energy is pushing energy production, storage, and management to the edges (customer sites) from the center (centralized power plants). These distributed solar sites are getting smaller, smarter, more modular and connected.
The solar disruption has many of the same characteristics of the information technology disruption. Just like the Internet turned our information publishing world from centralized to distributed, we're headed toward a distributed architecture of energy made possible not just by solar and storage, but also by software, sensors, artificial intelligence, mobile internet, big data, satellites, nanotechnology, artificial intelligence, and other exponentially improving technology.
Extraction-based economics (based on scarcity and increasing marginal costs) have no chance against solar and information-based economics (based on abundance and decreasing marginal costs.)
The solar disruption is accelerating!
Sources:
[i] http://www.pv-tech.org/news/china_officially_installed_5.04gw_of_new_solar_capacity_in_q1
[ii] http://en.wikipedia.org/wiki/Solar_power_in_France
[iii] http://en.wikipedia.org/wiki/Solar_power_in_the_United_States
https://tonyseba.com/wp-content/uploads/2015/05/Huawei.jpg
457
682
Tony Seba
https://tonyseba.com/wp-content/uploads/2014/03/tony-logo.jpg
Tony Seba
2015-05-03 21:20:29
2015-05-04 17:54:45
Letter from Shanghai: the Solar Disruption is Accelerating!