On December 1, 2008, General Electric announced that it was entering the solar water heater market (1). The previous year a grand total of 12,000 such heaters were sold in the United States residential market. GE is one of the largest companies by revenues and market capitalization in the world. To move the needle at this company, a business has to sell in the billions and promise steady growth as far as the eye can see. Why would GE get into such a tiny market?
Let me take you back in time to mid-twentieth-century Israel. After the country experienced its first major energy crisis in the 1950s, it made solar water heaters compulsory. By 1983, 60% of Israeli homes had solar water heaters and now every new home in the nation has to heat water this way. In Israel today, 90% of homes have solar water heaters (2). This is not some touchy-feely environmental movement: it's the law.
While the U.S. is playing catch-up, the solar water heater market offers tremendous growth opportunities. There are more than 90 million homes in this country, virtually all of which have a water heater. More than 1 million new houses are built each year and most of this growth is in the south and western parts of the country—the sunny areas.
Solar water heaters are three times more energy efficient than electric water heaters and twice as efficient as gas-fired heaters. Given that 15% of a typical residential energy bill goes to water heating, a homeowner could save up to 10% of that bill by switching to a solar water heater.
Each year 9 million (non-solar) water heaters are sold in the United States. A market penetration anywhere near Israel's, and GE's business would grow exponentially in this country. Water heater prices vary, but in 2006 consumers spent an average of $440 to replace their water heaters ($581 for gas units and $353 for electric units). (3) This would make water heaters a nearly $4 billion-a-year market—$160 billion over the next four decades. That's just in America!
Hawaii requires that all new homes built in 2010 and after come with a solar water heater. California's Solar Hot Water and Efficiency Act of 2007 has created a goal of installing 200,000 solar water heaters in the state by 2017. Other countries like Australia and Spain have also approved laws requiring solar water heaters for new construction.
While many companies are chasing the high-tech route to win in solar, there are multibillion-dollar opportunities like the solar water-heater market that are heating up right now. GE should know.
Adapted from "Solar Trillions – 7 Market and Investment Opportunities in the Emerging Clean-Energy Infrastructure", Chapter 6 – Opportunity IV—"Power to the People: Residential-Scale Solar" (Copyright © 2009 by Tony Seba). Available at Amazon.com http://www.amazon.com/Solar-Trillions-Investment-Opportunities-Clean-Energy/dp/0615335616
Endnotes:
(1) "GE Plunges into Solar Water Heater Market," Contractor Magazine, accessed July 16, 2009 at http://contractormag.com/green-contracting/ge_plunges_solar/
(2) "90 % Of Israeli Homes Have Solar Water Heaters," Environmental News Network, July 7, 2008, http://www.enn.com/energy/article/37584
(3) "The Residential Water Heater Market 2006," Kema Report #E06-158, July13, 2006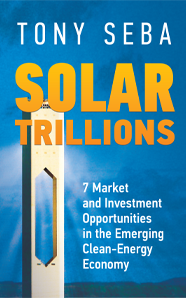 https://tonyseba.com/wp-content/uploads/2015/09/Solar-Trillions-Cover.png
298
186
Tony Seba
https://tonyseba.com/wp-content/uploads/2014/03/tony-logo.jpg
Tony Seba
2010-11-19 08:49:38
2015-09-04 17:25:31
The Solar Water Heater Market Opportunity