Tony Seba received the 2017 Clean Energy Action Sunshine Award for his contribution in accelerating the transition to a clean energy economy.
We are proud to share the Press Release launched by the Clean Energy Action:
Boulder, CO: On the 10th Anniversary of Clean Energy Action's founding, the 2017 CLEAN ENERGY ACTION SUNSHINE AWARD can think of no one more deserving of this honor than Mr. Tony Seba.  As the author of several books, including Clean Disruption of Energy and Transportation and Solar Trillions, as an educator at Stanford University, and as a leader in business and technology, Tony Seba exemplifies the qualities we seek to recognize with this award. Mr. Seba's work has aided the cause of sustainability immeasurably, both by shedding light on the progress that has been made and by helping to illuminate the way forward, and it is in recognition of this work that we are honored to name our friend and sustainability champion the recipient of the 2017 Clean Energy Action Sunshine Award.
At this moment, when the world is unclear whether America will remain a leader in the clean energy revolution, it is ever more important to chronicle the resolute courage and optimistic voices of our new energy economy experts and champions of sustainability. Clean Energy Action has traditionally recognized our amazing supporters and advocates for all they personally do for people and planet.  The Sunshine Award acknowledges these individuals who have made significant contributions in the dissemination of new ideas, technologies and concepts and who, like the sun, take the light and heat of human ingenuity and help it to find its way out of academic journals and laboratories and into the mainstream of our culture and economy.
Clean Energy Action was founded more than a decade ago on the principle that education and empowering community action is the key to accelerating the transition from fossil fuels to a clean energy and resilient economy.  While technological and important regulatory challenges persist, the true challenge comes in mobilizing the knowledge we have at our disposal and implementing it throughout our communities and our marketplaces.
About Tony Seba: Tony Seba is the author of "Clean Disruption of Energy and Transportation", "Solar Trillions" and "Winners Take All", a serial Silicon Valley entrepreneur, and an instructor in Entrepreneurship, Disruption and Clean Energy at Stanford's Continuing Studies Program. His work focuses on clean energy, entrepreneurship, market disruption, and the exponential technology trends, business model innovation, and product architecture innovations that are leading to the disruption of some of the world's major industries, such as energy, transportation, infrastructure, finance, and manufacturing.
He is also a co-founder of the think tank RethinkX and co-author of the report "Rethinking Transportation 2020-2030" released in May 2017.
This report was also cited by Senator Owen Hill, R-Colorado Springs, on the presentation of Senate Bill 213 that puts the autonomous vehicles into state law, signed by Gov. John Hickenlooper on June 1st.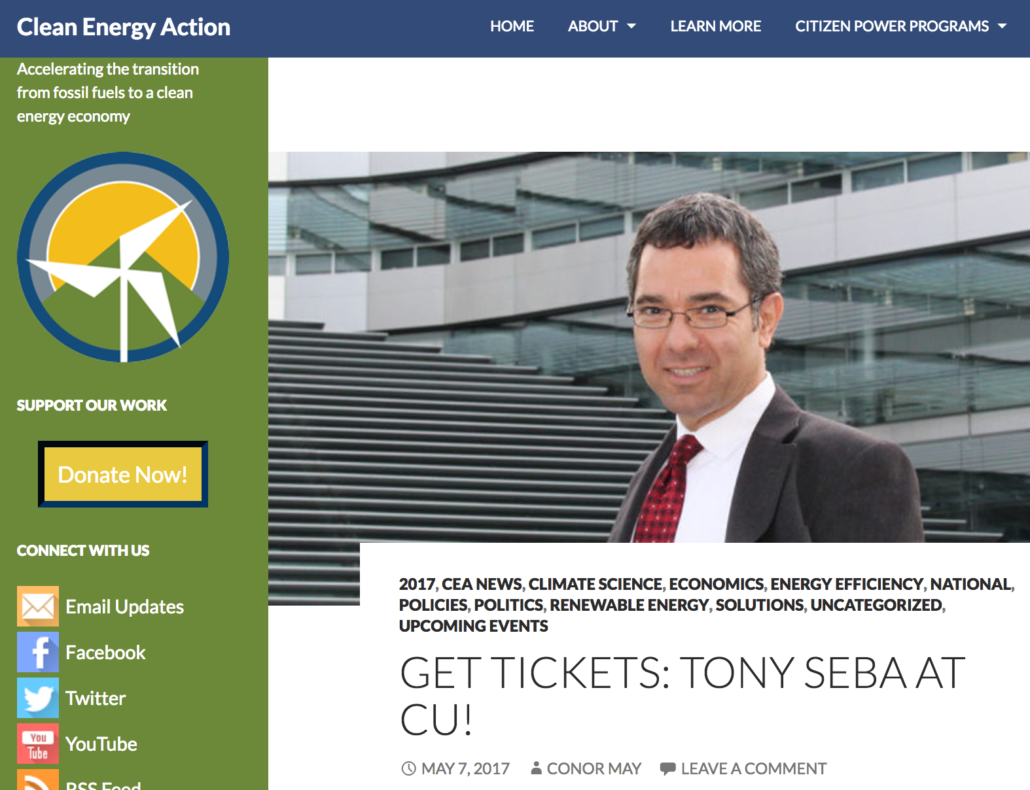 https://tonyseba.com/wp-content/uploads/2017/06/TS-Boulder-Award.png
1208
1574
Tony Seba
https://tonyseba.com/wp-content/uploads/2014/03/tony-logo.jpg
Tony Seba
2017-06-09 17:30:27
2017-07-07 02:28:46
Tony Seba received the 2017 Clean Energy Action Sunshine Award